The ponies at Reddemeade are working hard to bring you a brand new website! In the meantime, keep reading below to keep up with all the latest…
COVID-19 UPDATE
Welcome back! We are open to new students! Due to increased interest during Covid, our rosters are currently extremely full. We DO NOT have any openings currently in ANY of our beginner group or private lessons and have very limited space for more experienced riders.
---
SUMMER CAMP
Summer Camp 2021 is being offered on an extremely limited basis. CAMP IS FULL at this time. Camp inquiries can be addressed to michala@nathlar.com.
---
SATURDAY 1:30PM Introductory Lesson
NEW COVID POLICY
RESERVATION REQUIRED! PLEASE EMAIL INTRO@REDDEMEADE.COM TO RESERVE A SPOT
SPACE IS LIMITED TO 10 RIDERS
RIDERS MAY NOT BE ACCOMPANIED BY MORE THAN 3 SPECTATORS, RIDERS AND SPECTATORS ARE ASKED NOT TO LOITER IN THE BARNS
MASKS ARE REQUIRED FOR EVERYONE INSIDE THE BARNS OR IN CLOSE PROXIMITY TO OTHERS.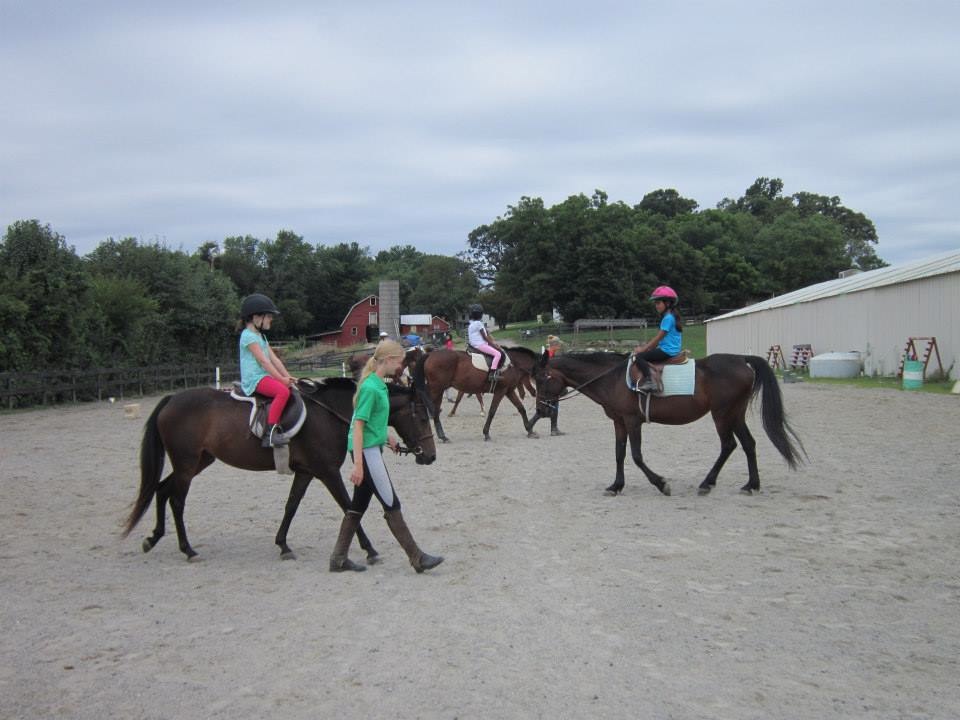 Thank you for your interest in our introductory lesson. Despite our extremely limited availability, we welcome you to still attend one of our Saturday introductory lessons, as we're passionate about sharing our love of horses with anyone who is interested in learning. The lesson will give you a chance to meet the horses and try a short ride. We cannot guarantee that we will be able to sign you up for ongoing lessons.
If you have never had a riding lesson, it will give you a chance to experience the fun and challenges of learning to ride a horse. If you are an experienced rider, it will give us an opportunity to observe your riding and suggest a class that is appropriate for you.
LImit 2 riders per group/family. ABSOLUTELY NO large groups or parties permitted at Intro. Please note our weight limit is 250 lbs. Long pants and closed-toed shoes are required for riders. ALL guests who enter the barn are asked to wear closed toed shoes. The cost to ride in our introductory lesson is $25. Checks and all major credit cards are accepted. No cash please. Please arrive by 1:20 so we may begin the class promptly at 1:30.
---
WHAT TO DO AT REDDEMEADE
Group Lessons
Children and Adults are placed into the appropriate class based on riding ability and age.
The core skills of our lessons are learning balance, control, and confidence. Lessons will include learning ring etiquette, unmounted skills, introduction to jumping, in the ring and on cross country, as well as an introduction to dressage.
Whether you are a pleasure rider or interested in competing at the highest level, you will find we offer the best instruction on well-trained and talented horses. Semi-Private lessons offered, but subject to availability.
Private lessons starting at age 3; Group Lessons for ages 7 and up. For smaller children or any student looking to get more in-depth knowledge, we offer one-on-one instruction in 30, 45, or 60 minute intervals.
---
EquiShare™
Designed for Intermediate and Advanced riders, EquiShare offers the opportunity to have all the pleasures of riding without the obligations of owning a horse. EquiShare members have the right to ride any or all of our stable full of well-schooled, experienced and versatile horses for a fixed monthly fee. We take care of all the rest, including training, care and feeding, vets and shoeing. All you have to do is relax and ride.
Riders must be able to Walk, Trot, and Canter in an English saddle without supervision, groom, tack, and cool out correctly. If you are interested in scheduling an EquiShare Demo Ride please email equishare@reddemeade.com.
---
Scouts and Parties
LARGE GROUP RIDES ARE NOT BEING OFFERED AT THIS TIME.
Large groups and parties can be scheduled by email at laurie@reddemeade.com. Options range from pony rides to a group lesson and include an unmounted lesson on grooming and tacking!
---
Dressage, Eventing, & Hunter Jumper Show Teams
Our dressage and eventing teams compete at schooling and recognized shows throughout the Area and even at Regional Championships.
Our hunter jumper teams consist of our Junior Equitation League and IEA teams. We plan to resume these teams in the fall.